hope & grace Bamboo Board
Small | Medium | Large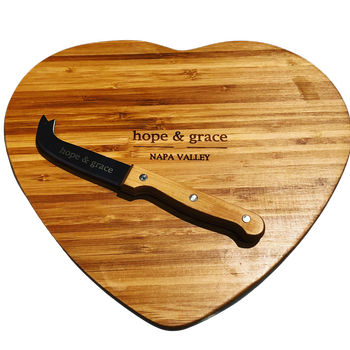 What a wondeful gift .... just add some gourmet cheeses and accompaniments. This is a great bamboo cutting board that comes in 3 sizes. It feels solid and refined at the same time. Use it for a nice cheese pairing with your next bottle of hope & grace wine!
Aproximate sizes: SM: 7"H x 8" W | MD: 9" H x 10" W | LG: 12" H x 11 1/2" W
IDEAS ....Select a variety of flavors, textures, shapes.
Various cheese ... Toma, Monte Blanco, Prima Donna Gouda
Chacuterie ... Salami, Prosciutto, Sopresssa, Bresaola
Savory items ... Almonds, cashews, olives
Sweet items ... Dried fruit, cherries, craberries & straberries, apricots
Fresh Item ... Grapes, raspberries, figs, pears
Crunchy items ... Crackers, gourmet chips, breadsticks
Condiments ... honey, mustards, chutney and jams