Saffron Pappardelle with Ricotta, Sundried Tomatoes, and Olive
By Chef Graham Jones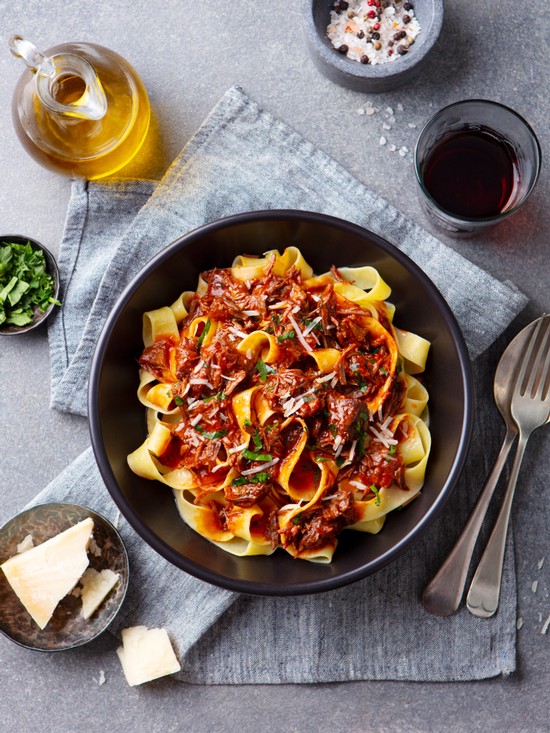 Ingredients
For the Dough:
5 ounces all-purpose flour
4 ounces semolina
3 egg yolks
2 eggs
1 tablespoon olive oil
8-10 strands saffron
Salt
For the Sauce:
14 ounces ricotta
4 ounces sundried tomatoes
4 ounces assorted olives
10 basil leaves
Freshly ground black pepper
Directions (for the dough):
In a mixer with hook attachment, add the flour, semolina, and salt.
Whisk together the eggs, olive oil, and saffron and add slowly to the mixture.
Mix on medium speed until well incorporated. If the mixture is too moist, add a little more flour.
On a clean surface, work the dough with the heel of the palm of your hand, keeping fingers bent. Knead the dough, folding the pasta in half and giving it a half a turn, continuing to knead for 10 minutes. Wrap the dough in plastic and leave to rest.
Pappardelle are strips of past cut with a pastry cutter from a whole sheet of pasta. The strips should be 4-8 inches long by ¾ to 1 ½ inches wide. Roll the pasta through the pasta machine until the desired thickness is achieved. Place on a clean surface and cut into strips. You may allow the pasta to dry.
Bring a large pot of water to boil, add salt and olive oil to prevent the pasta from sticking. Add the pasta, stirring occasionally. Cook until al dente. Drain the pasta, reserving 1 cup of the pasta water.
Directions (for the sauce):
Sieve the ricotta cheese into a serving bowl. Add a little pasta water, stir in the basil, tomatoes, and olives. Add the cooked pasta to the bowl. Mix pasta and sauce together; serve with grated pecorino cheese and freshly ground black pepper.