We are excited to welcome our guests again and kindly ask that we all follow the procedures below to maintain a safe environment for your party, other guests, and our team. As our state has placed some significant restrictions on our re-opening, we ask that all guests follow the guidelines below at all times to allow us to remain open.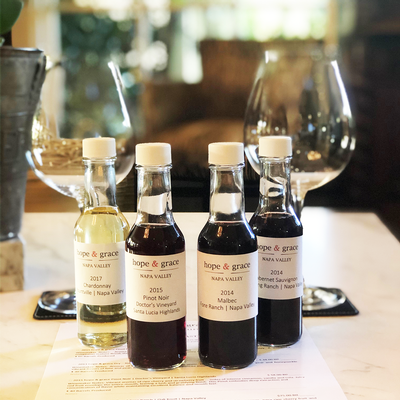 Before you join us, here are some of the things you should be prepared for...
Upon Arriving:
We ask that you please bring and wear a mask at all times when inside, other than when seated at your table or your tasting location. You may remove once seated.
We ask that you wait outside the front door under the awning or by the blue rope for a team member to greet you.
Our State requires that all members of the party must be present before seating, and our staff must bring the whole party to the tasting location at one time.
Once you are checked in, we will check you for symptoms by having you answer a few questions and agree to a verbal waiver. We will also provide hand sanitizer upon entry. As soon as this is complete, we will bring you to your tasting spot.
Your Wine Experience:
We are offering our Summer tasting at this time. Reservations are required and are not able to accommodate any direct walk-ins. You can make a reservation HERE. To best serve you, we are requesting 24 hours notice before all reservations.
All tastings will be seated on premise. Based on our limited occupancy and space, we will have reduced number of reservations per day.
For safety reasons for our team, other guests, and your party, we will require a mask be properly worn at all times inside, except when seated for wine tasting.
Depending on the location of your tasting experience, the wines may be pre-poured for you and presented in bottles or poured by a team member. You will have a dedicated hope & grace crew member who will greet you, seat you, and assist you during your entire tasting experience.
As no outside food can be brought onto the premises, we are offering a cheese pairing for two. This must be ordered 72 hours prior to your tasting experience with your reservation.
We are only able to accommodate parties of six or less at this time.
If you would like to shop in our retail section, we will be happy to assist you with any items or product, in effort to reduce touching the retail shelf items.
Our New Procedures for your Safety:
The health and safety of our guests and our team are a priority. Upon arrival, guests will be required to use hand sanitizer. We also have a touchless thermometer for temperature checks of our guests and team as needed. Any guest who may display symptoms such as temperature over 100.4°F and/or arrive from counties or states currently under shelter-in-place orders, they may not be permitted inside.
Our team is using disinfectant to clean and prepare for guests. We will be wearing masks at all times and using gloves while cleaning. Our temperature is taken before every shift and documented. We have always taken pride in our cleaning and sanitizing to maintain and safe environment and will continue to do so in a stricter format for everyone's safety.
Disclaimer:

Several other protocols are being put in place for your safety and ours, per the State's requirements. Although your experience may not be what you are used to, please be respectful of our new protocols as it is for our safety and yours.
Upon entering our tasting salon, and while tasting, please know we are taking extreme caution but there is risk inherent in any public place or gathering. While we are doing all we can to comply with the State requirements and to make your experience as safe as possible, we cannot remove all risk from your visit. Thus, if you choose to visit us, you and all those in your party are assuming all risks related the coronavirus and any other public health threat.
If you have any questions about your visit, please contact rsvp@hopeandgracewines.com or call us at 707-944-2500. If you have not made a reservation, quick click here!
We look forward to seeing you soon! Cheers!