Pinot Noir Vertical, Santa Lucia Highlands, 3 bottle
2013, 2014 & 2015 Vintages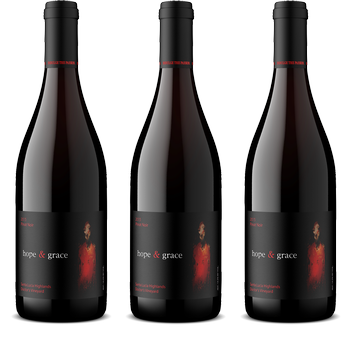 The first wine produced under the hope & grace wine collection, our Santa Lucia Highlands Pinot Noir. This vertical highlights the iconic vintages of 2014, 2015, & 2016. Nuanced and reflective of the growing season and geography, this vertical is a perfect gift or exploration of vintages to enjoy at home. This includes one bottle of each of those unbelievable vintages.
---
2014 hope & grace Pinot Noir, Santa Lucia Highlands, Doctor's Vineyard
Winemaker Notes: Rich aromas of raspberry jam and cherry fruit, with hints of dried rose petals, white pepper and sweet candied cherries. A lush mouth feel of red fruit floods the palate with a velvety texture ...finishing silky and full bodied.
100% Pinot Noir | Pommard & 777 Clone | 40 Barrels Produced | 16 Months on French Oak | Cellaring: Enjoy Now - 2020
---
2015 hope & grace Pinot Noir, Santa Lucia Highlands, Doctor's Vineyard
Winemaker Notes: Vibrant aromas of ripe cherry and strawberry fruit ... notes of intense cinnamon, vanilla, and cola. Juicy red fruit envelopes the entire mouth, leaving a lush and gratifying finish. This Pinot embodies deep extraction and concentration of flavor while maintaining excellent balance and mouthfeel.

100% Pinot Noir | Pommard & 777 Clone | 40 Barrels Produced | 16 Months on French Oak | Cellaring: Enjoy Now - 2022
---
2016 hope & grace Pinot Noir, Santa Lucia Highlands, Doctor's Vineyard
Winemaker Notes: Alluring aromas of black cherries, strawberries and currants, with hints of allspice, violets and white pepper. On the palate, intense black fruit flavors balanced by ripe red plums and a hint of cinnamon spice. A soft acidity brilliantly highlights the graceful tannins and lengthy finish.

100% Pinot Noir | Pommard & 777 Clone | 40 Barrels Produced | 16 Months on French Oak | Cellaring: Enjoy Now - 2023