2014 hope & grace Pinot Noir, Sonoma Coast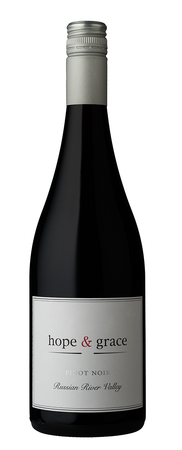 This delightful Pinot Noir is grown in the extaordinary Sonoma Coast. This is a vibrantly fruit forward Pinot Noir, medium bodied with a lively acidity. Great structure and balance .... Perfect for lighter fare and warmer weather.
Winemaker Notes: Vibrant aromas of cherry, white chocolate and anise ... Hints of rose petal, cedar, and black pepper ... Lively red fruit flavors entice the palate with a delicious and satisfying finish.
100% Pinot Noir | 12 months in Neutral Oak | 16 barrels Produced