2014 hope & grace Cabernet Sauvignon St. Helena 1.5L
St. Helena | Napa Valley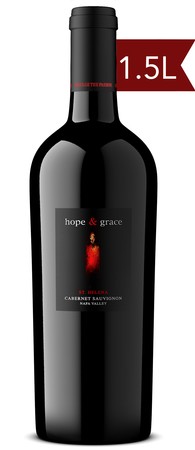 Composed of Cabernet Sauvignon from the Lewelling Family Vineyards located a half mile south of St. Helena, which is fortuitously situated in an alluvial fan at the base of Spring Mountain. The gravelly loam soil and ideal microclimate combine to produce optimal Cabernet fruit with rich cherry and dark berry flavors. These wines exemplify the exceptional fruit, structure, and balance that we have come to expect from our hope & grace, St. Helena Cabernet Sauvignon.
Winemaker Notes: Rich aromas of blackberries, cocoa powder, notes of violets, anise and sweet marjoram. Vibrant red fruit coats the palate with juicy flavors ... Silky and refined with a long finish.
100% Cabernet Sauvignon | 24 Months on French Oak | 24 Barrels Produced | 2018 - 2024
*Shipping prices will be added prior to finalizing charges. They are subject to change based on format size, location and requested shipping method.