hope & grace Rose Wine Glass
Riedel Rose | Dessert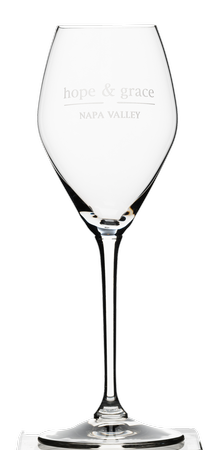 Introducing the hope & grace Rose Wine Glass—a true delight for wine enthusiasts who appreciate the finer details. Designed in by Riedel Crystal, renowned experts in glassware, these glasses are specially crafted to enhance the enjoyment of your favorite Rosé wine or dessert wines.
With a capacity of 11 3/8 ounces, these glasses strike the perfect balance between elegance and functionality. Each glass proudly displays the distinctive hope & grace logo, a mark of exceptional quality and craftsmanship.
Indulge in the exquisite shape and form of these stem glasses, carefully curated to elevate your wine-drinking experience. The precise design enhances the aromas and flavors of your rose or dessert wines, allowing you to savor every nuance with each sip.
Whether you're enjoying a romantic evening or hosting a gathering, these hope & grace Rose Wine Glasses will be the highlight of your table setting. Impress your guests and elevate your wine appreciation with these exquisite glasses that are as beautiful as the wines they hold.