hope & grace Rosewood Corkscrew
Elegant | Double Hinge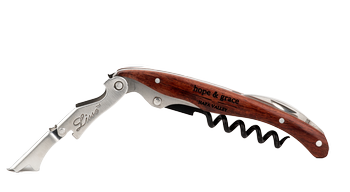 Introducing the hope & grace Rosewood Corkscrew—an exquisite blend of elegance and functionality. This beautiful corkscrew, crafted with precision using rosewood and silver, adds a touch of sophistication to your wine experience.
Equipped with a double hinge mechanism, this corkscrew effortlessly removes corks with ease, making it a reliable companion for every wine lover. Whether you're opening a cherished bottle or entertaining guests, this Rosewood Corkscrew ensures a smooth and effortless uncorking experience every time.
Not only is this corkscrew a pleasure to use, but it also makes a fantastic gift. Its timeless design and high-quality craftsmanship make it a thoughtful and impressive choice for wine enthusiasts and collectors.