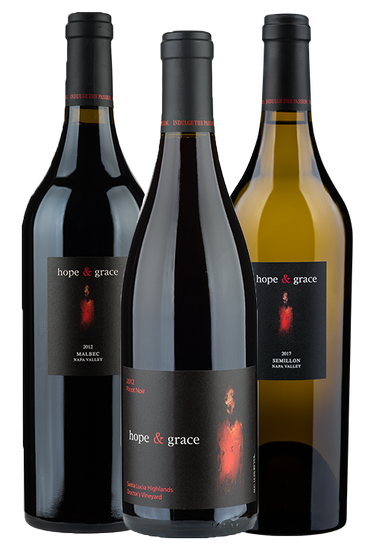 ARTISAN WINEMAKING | KEEPING TRADITION ALIVE...

Derived from a dream over a decade ago to a thriving artisan winery and Yountville tasting room in Napa Valley … hope & grace began its journey as a winery in 2001 with a small production of Pinot Noir from the Santa Lucia Highlands. Today we are a modest producer of 3,000 cases annually; focusing on limited production, single vineyard, 100% varietal Pinot Noirs, Cabernet Sauvignons, Malbec, Sauvignon Blanc, Chardonnay & Dry Riesling.
With the passion, talent and expertise of 30 years of winemaking, Charles hand selects the finest grapes, combined with premium French Oak barrels to craft balanced, elegant, cellar worthy wines. Charles and business partner Tiffani opened their tasting room in the charming town of Yountville, in 2006, creating a beautiful and warm atmosphere for guests to visit and enjoy the hope & grace wine collection.
RESERVATIONS
Nestled in the heart of Yountville, Napa Valley, we are delighted to offer intimate wine tastings at the hope & grace wines tasting salon! Please join us to explore the hope & grace collection by booking a reservation.
Join our Mailing List!
Discover new releases, library offerings, and special events hosted at the hope & grace tasting salon.