Hendricks Duet | 2018
RESERVE | LIMITED RELEASE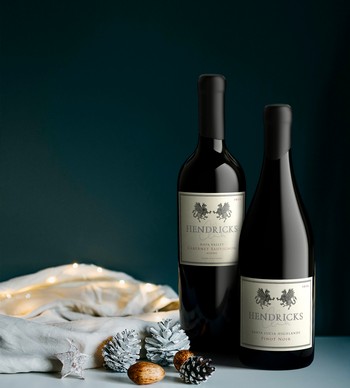 LIMITED | 24 AVAILABLE
Our HENDRICKS WINES are the hallmark for an extraordinary vintage. This wine must exhibit all the elements of the reserve standard exhibiting color, intensity of aroma, voluptuous mouthfeel, and a synergy of balance.
These characteristics of a reserve wine can begin in the vineyard, or unexpectedly appear during the progression of barrel ageing ... the epitome and beauty of wine, constantly evolving and developing.
For the quintessential connoisseur, our limited releases of HENDRICKS Pinot Noir and Cabernet Sauvignon with a special Marble Coaster and Gargoyle Aerator.

2018 HENDRICKS RESERVE CABERNET SAUVIGNON
Winemaker Notes: TBA
100% Cabernet Sauvignon | G Ranch | Spring Mountain | Napa Valley
30 Months on New French Oak | Cellaring Recommendation: 2023 – 2030
_________________________________________ ________________________________________
2018 HENDRICKS RESERVE PINOT NOIR
Winemaker Notes: TBA
100% Pinot Noir | Clone 667 | Santa Lucia Highlands | Smith Vineyard
22 Months on New French Oak | Cellaring Recommendation: 2023 – 2028