HENDRICKS Duo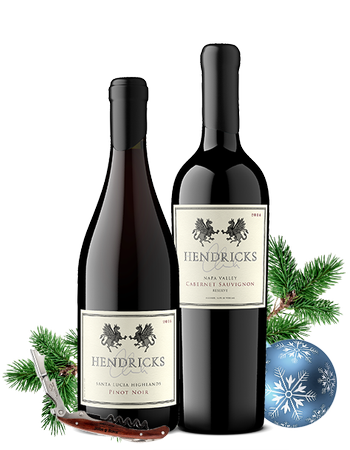 Share a special gift from our reserve label, HENDRICKS. Small production Cabernet Sauvignon from the 2014 vintage and a new release of our 2016 Pinot Noir. Both single-vineyard, single-varietal, and single-clonal selections, these wine are sure to impress... hand-wrapped and packed, your gift will include a special corkscrew.
Our HENDRICKS WINES are the hallmark for an extraordinary vintage. This wine must exhibit all the elements of the reserve standard ... Color, intensity of aroma, a mouth filling quality, synergy of balance. Characteristics of a reserve can begin in the vineyard, or they may unexpectedly appear during the progression of barrel ageing ... This is truly the beauty of wine, constantly evolving and developing ... delicious anticipation.
---
2016 Hendricks Pinot Noir Winemakers Notes: Enveloping aromas of raspberries, black currants and cinnamon. Velvety raspberry and Bing cherry fruit flavors glides across the palate, framed with fine-grained tannins. Nuanced and evolving, with layers of spice and smooth oak culminate in a balanced finish.
Santa Lucia Highlands | Smith Vineyard | 100% Pinot Noir | Clone 667 | 22 Months on French Oak | 10 Barrels
---
2014 Hendricks Cabernet Sauvignon Winemaker Notes: A beautiful deep purple hue ... Rich aromas of dark berries, blackberry and boysenberry jam ... notes of violets, sweet honey, maple, and toasted oak. Full-bodied, rich and silky berry fruit floods the palate ... leaving a long lingering and satisfying finish.​
St. Helena, Napa Valley |100% Cabernet Sauvignon | 30 Months on French Oak | 06 Barrels